Residential Roof Cleaning Services
There is no more effective way to maintain or improve the attractiveness of your home than keeping the exterior in great shape. This includes your roof. Over time, roofs start to accumulate black patches and streaks that make them look as if they are dirty. This leads many homeowners to consider replacing their roofs. But replacing a roof is an expensive proposition. before you replace your roof ask yourself, "is it old or is it mold?"
Roof washing done the right way
We Know Roofing and can make yours look better!
At Wall 2 Wall Cleaning Services, we focus on roof cleaning. Our amazing soft-wash roof cleaning process removes all traces of this alga (as well as any other dirt and debris) without the use of high pressure. With our mix of eco-friendly detergents and a low-pressure rinse, your roof will look completely revitalized, as if it was just installed!
It has been our experience it might look like an old roof has mold and debris hiding your perfectly functional roof that doesn't require replacement, just a little TLC. Get an instant bid today and save yourself thousands while you revitalize the appearance of your roof!
Providing roof cleaning services in O'Fallon, St Charles, St Peters & Chesterfield MO, and the surrounding area.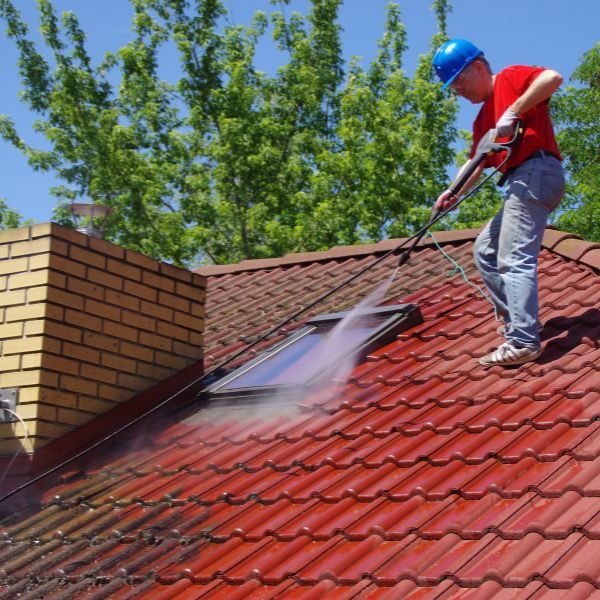 Frequently Asked Questions About Our Roof Cleaning Services
It may take up to 3 weeks for all of the black streaks to come off because the sun helps bake the solution into the deep crevices to lift and get rid of the algae. If the black streaks are still present after 3 weeks, please give us a call and we will send a tech back out to re-spray those areas.
Yes, if you purchase an entire roof cleaning there is a 3-year warranty. If you purchase only a partial roof cleaning, there is no warranty.
ABSOLUTELY NOT! High-pressure power washing can be very damaging to the shingles. Here at Wall 2 Wall, we use a roof cleaning solution called "Roof Snot" which is mixed with Sodium Hypo-Chloride, soaps, and water. It's a thicker solution that helps stick to the rooftop and gets left up on the roof for the sun to bake it into the shingles to get rid of the mold/algae.
"*" indicates required fields
We provide roof washing services in Ballwin, Chesterfield, Creve Coeur, Eureka,  Kirkwood, Lake St Louis, Maryland Heights, Mehlville, Oakville, O'Fallon, St Charles, St Louis, St Peters, Sunset Hills, Town & Country, Webster Groves, Wentzville, Wildwood, and surrounding areas throughout St Charles County and St Louis County.